---
Luyken Family Association
---
---
Marriage Elisabeth Luyken und Johann Sujer
---
German / Home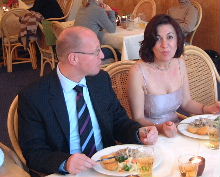 On January 6th 2006 Elisabeth Luyken and Johann Sujer married by the civil in Germersheim am Rhein (Germany). Elisabeth took the name Sujer.

The ceremony took place in a small family circle. After the ceremony in the civil registry office there were toasts with sparkling wine. All present congratulated the freshly married. After that the group went to the city hall of Germersheim were they lunched. There everybody talked while the smaller children played. Following that they met at home where there was plenty of cakes and coffee.

The honey moon is planned in Mexico, where else. Elisabeth should be well versed there and already has a thought of a travel program with which to surprise Johann.